Are you considering a metal roof for your home? Metal roofing is an excellent choice for many reasons, and makes a beautiful alternative to traditional shingle roofs. Check out these top benefits of metal roofing.
Energy Efficiency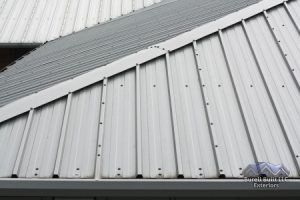 Looking for a way to help insulate your home? One of the top benefits of metal roofing is its ability to help control the temperature of your home. Metal is naturally reflective, so it does not absorb heat like a dark, asphalt shingle roof does. This helps keep your attic cooler during hot, sunny days, which can help reduce your energy costs. In the winter, metal roofs help hold in the warmth of your home, reducing escaped heat.
Durability
Metal roofing is highly weather resistant, standing up against rain, sun, wind, fire, hail, and more. If you are tired or repairing or replacing your roof, metal is a great choice, often lasting for 50 years or more with proper care. Though it is low maintenance, you should still check for signs of rust or damage regularly.
Unique Style
Once thought appropriate only for barns and warehouses, metal is becoming a very popular residential roofing material. When installed for a home, metal roofing is not loud, so you don't have to worry about noise during a rainstorm. Available in a wide range of colors and styles, you can even find metal shingle roofs and some resembling tile.
To take advantage of the benefits of metal roofing, call Burell Built Exteriors at 865-238-2628. We specialize in all kinds of residential roofing, including metal!