Commercial Roofing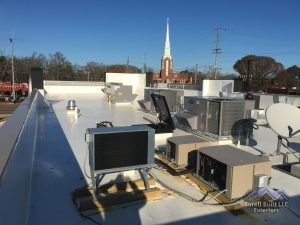 Commercial roofing projects involve much forethought and planning. There are many variables that must be considered to ensure that the roof is as hands-off as possible for the property owner and maintenance team. We know that you have more important business to tend to, so trust our highly experienced team at Burell Built Roofing, LLC to manage all aspects of your commercial roof. Whether you're looking for regular maintenance and small repairs, total roof replacement, or are overseeing new construction, call us for commercial roofing expertise for your Knoxville, TN or Chattanooga, TN project.
Commercial Roofing Services
Burell Built is a full-service commercial roofing contractor specializing in roof replacement and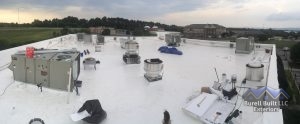 repairs for occupied buildings. When it comes to a commercial roof, we understand there is no one-size-fits-all and our specialists are trained to tailor a plan towards the purpose and use of the type of building and business. With the advancements in roofing technology, we have the ability to save you time and money through our installation techniques with little to no disruption to your daily business activities.
Our commercial roofing specialties include the repair and replacement of…
Built-Up Roofs
Commercial Metal Roofs
Coping and Custom Sheetmetal Work
EPDM roofs
Flat Roofs
PVC Roofs
Shingle Roofs
Tile Roofs
…And more!
We partner with industry-leading manufacturers to bring quality products and outstanding warranties to your commercial roof project. As an authorized installer, our material and labor warranties are provided through the manufacturers. These warranties include options for 15 years NDL, 20-year NDL, and beyond!
Commercial Customers
We are proud to serve many premier companies and businesses in Knoxville, Chattanooga, and surrounding areas.
Join our list of satisfied customers, including the following:
Ripleys Aquarium of the Smokey's
Knox First Seventh Day Adventist Church
Ripley's Haunted Adventure
Local 62 Asbestos and Insulators Union
Ripley's Moving Theatre
O'Charleys Corporation
Helen Ross Mcnabb
Signal Mountain Golf and County Club
Collegedale Academy
Burger King Corporation
The Hale Group, LLC
Pleasant Grove Baptist Church
Breeding Insulation Company
Chili's Restaurants
Hometown Folks
Recreations Salon
Central Church of God
Healthcare Realty Inc.
Animal Medical Professionals
Zaxby's Corporation
Bon Shopping Center
Coroplast Inc.
Krystal's Corporation
Ooltewah Mini Storage
JMS Metals Inc
Bakecrafters Inc.
The Westfield Center
Sonic Corporation
Connor Family Properties
Unique Bakery
Schulz Brau Brewery
Blain's Restaurant
Chapel on the Hill Church
Comfort Inn Corporation
KOA Inc.
Advent House
Tates Dayschool
Modspace Corporation
Dairy Queen Corporation
Houchens Food Group Inc.
Alcoa Shopping Center, LLC
Flemings Steakhouse
Papa Johns Corporation
Chateau Apartments
Blooming Brands Inc.
Berkshires Old Fashioned Custard
The Marriott Corporation
Captain D's Corporation
Boatmate Trailers
Magnolia Apartments
Krispy Kreme Corporation
Habitat for Humanity
Hardees Corporation
Pacific Property Group
Ellis Place Complex
Wendy's Corporation
Regions Bank
Eastman Chemical
Ridgeview Apartments
Long John Silver's Corporation
KFC Corporation
JAK Foods Group
Ravenwood Apartments
…And many more!
Call us today at 865-238-2628 to start planning your Chattanooga or Knoxville, TN commercial roofing project and to learn more about all the services that Burell Built Roofing, LLC has to offer!