What You Should Know About Slate Roofs
Slate roofs grace many older homes of grandeur architectural style in Tennessee. Potential homeowners considering such a home may be concerned with the maintenance and upkeep of such roofing, and for good reason. A slate roof is almost a piece of art, and there is more to the care of one than there is with an asphalt shingle roof. That being said, here are some things to keep in mind if you're considering a slate roof in Louisville and Chattanooga, TN.
What is a slate roof?
Slate roof tiles have been used for centuries, and are often referred to as the 100-year roof. This long lasting natural product is made with durable materials that are fireproof and waterproof. Slate roof tiles are made from metamorphic rocks that come from volcanic ash and clay that create sedimentary rock.
There are no two identical pieces on a slate roof because there are no two identical pieces of slate itself. For example, a hematite mineral produces purple tones while a chlorite mineral produces green. This mixed with carbon tones of black and gray, and the presence of iron compounds in primarily fine-grained pyrite, gives us the "weathering" appeal that makes a slate roof a piece of unique beauty and art. Along with the various tones of brown and buff, a slate roof is a one-of-a-kind masterpiece. 
Why is slate used for roofing?
Slate roof benefits are what make a slate roof the gold standard in roofing. This all-natural product is created naturally from volcanic ash and clay, which is what makes metamorphosed sedimentary rock a reliable material. Homebuyers who have done their homework, will pay top dollar for the home with a slate roof. So what makes a slate roof so appealing and attractive to a homeowner? Read on …..
1. The Century Mark and Beyond
A slate roof will last almost into infinity, especially with expert slate roof contractors providing professional installation, routine maintenance, and meticulous upkeep, upwards of 150 years or longer. With a roofing material cut from extracted natural stone that has been a part of the earth for millions of years, you'll have a roof that is virtually indestructible. Without worry of constant roof repairs that an asphalt or flat roof may have, the only repairs will be due to heavy objects falling on the roof, like a tree limb during a storm.
2. Stunningly Attractive Beauty
Three words describe a pristine slate roof: Stunning. Attractive. Beautiful. Those are the hallmarks of a slate roof. Classy, stylish, opulent, and unique are other words that describe slate roofing. In an exclusive suburb, slate roofing is common on most homes, but because there are no two slate stones just alike, each home will have a unique color, style, and texture in various sizes. The experienced roofing contractor that knows slate roofing will use their penchant for design to install a slate roof that is impressive. Working with the various color selections of black, gray, green, purple, and red, with mixtures of brown and buff, along with a few mottled tiles. The experienced slate roof contractor is an artist in a class all their own.
3. Withstands the Elements
Slate roofs are fire-resistant and naturally mold-resistant with a low capacity of water absorption. A heavy roofing material that can't be easily blown off in high winds like other roofing materials. Slate roofs are a money and trouble saving feature for both homeowners and insurance companies.
4. Eco-friendly
Other roofing materials, like asphalt shingles and flat roofs, will need replacing after several years as they wear out. After that, the old roofing is torn off and those non-biodegradable materials are taken to a landfill and dumped. These roofing materials are known to harm the environment, but a slate roof is all-natural stone that will last a century or longer with no worries of it filling the landfills with harmful and negative by-products. It came from the earth naturally and can be returned to the earth without harming the environment.
5. Boosted Value
A slate roof isn't for every style of house. For instance, you wouldn't pay thousands of dollars to roof a home that is in a moderate neighborhood – there wouldn't be any ROI. However, in an above moderate, exclusive neighborhood, a slate roof will attract the attention of more potential homebuyers. It is the attention-grabbing you want when trying to get top dollar, not only for the beauty, but it confirms this house is structurally sound. 
How many years does a slate roof last?
At a minimum, you can expect a professionally installed, well-maintained slate roof to last 100 years. A hard slate can have a lifespan up to 200 years or longer. A homeowner today that has a slate roof installed will most likely never need to replace it in their lifetime.
Does a slate roof need replacing?
Because a slate roof is designed to last at least 100 years, and even longer, with regular inspection and maintenance, the only replacement that you may ever need is a shingle that has broken or cracked from the elements.
Are slate roofs better than single ply?
When considering slate roof vs flat roofing, or any other type of roofing, yes, slate roofing is the better choice. Slate is a durable, all-natural material, excellent for roofing. It typically comes with a 50-year limited warranty with a wind resistant warranty for up to 130mph.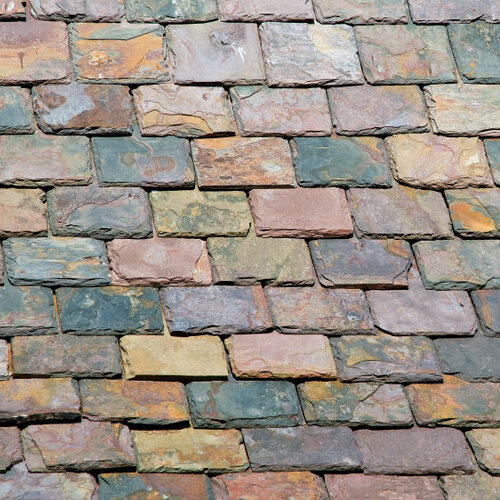 In Closing – Why is Slate So Expensive?
The biggest downside to slate roofing is the cost – without a doubt, it is the most expensive material for roofing. This is partly because it requires specially trained contractors to install and repair. With pricing reaching $2,000 per square foot, it is often referred to as the Rolls Royce of roofing. If you're interested in learning more or getting your own slate roof in Louisville and Chattanooga, TN, reach out to the Burell Built Roofing, LLC team by calling 865-238-2628 today.