The weather this year has been something else! With unexpected levels of rain, hail, and severe storms, many areas of the country have been hit hard. As we enter the balmy months of summer in Tennessee, we can hope to avoid more storms and just try to keep cool despite the humidity. (We raise our glasses of iced tea to you, neighbors!)
The unfortunate reality of emergency situations, whether it be an unforeseen hail storm or a devastating fire, is that there is little we can do in the way of preventing disaster. Sure, we can insure our property and keep our homes maintained to give ourselves the best chances possible. But when the worst occurs, our best course of action is to quickly respond and try to just take it one moment at a time.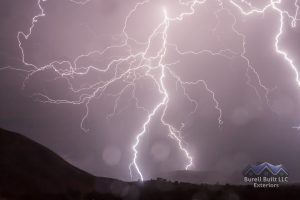 Sadly, emergency conditions seem to attract the worst in some people. It never fails that when a major storm has trekked through an area, in its wake a barrage of opportunists follow. These so-called "professionals" go door-to-door, praying on unsuspecting, desperate homeowners who have scarcely had the chance to wrap their heads around whatever damage they've sustained. Typically, these folks arrive from out of town, and they're far more eager to collect a "deposit" and put a sign in your yard than they are to listen to you, the homeowner.
Neighbors, please don't let yourselves or your loved ones get taken advantage of. Acting quickly can absolutely go a long way in mitigating further damage and protecting your family, especially if threatening conditions are still imminent. But when the worst happens, don't count on a fly-by-night company to be there for you. Call in a team of local professionals who aren't going anywhere.
The team at Burell Built Exteriors has been proudly serving Knoxville, TN and Chattanooga, TN since 2004, and we have no plans to leave. These are our neighborhoods too, and we understand the unique aspects of the area. We answer our phones 24 hours a day, 365 days a year, and specialize in restoration services. If the idea of filing an insurance claim is confusing and overwhelming, let us help you! We provide emergency roofing services and understand well all the ins-and-outs of home claims.
Don't hesitate to call us any time of day at 865-238-2628 if the worst occurs and you don't know where to turn. We're here for you!