Sprayed Polyurethane Foam Roofs
Sprayed Polyurethane Foam Roofing (or "SPF") is a great system for commercial roofs in the Knoxville and Chattanooga areas. Not only is SPF a cost-effective option, but it's highly durable and can be installed over existing roofing. This means lower installation cost and less landfill waste. Call us for repairs, replacement, or installation of sprayed polyurethane foam roofs for your Knoxville, TN, or Chattanooga, TN commercial property!
Best Severe Weather Resistance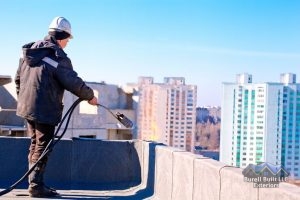 SPF Roofing is a superior system for weather resistance and defense against the elements. To apply the roofing material, a two-step process takes place to effectively create a double layer of leak-proof seals over your entire roof.
The first step is a layer of polyurethane foam installation, made of isocyanate and polyol, which is sprayed in equal parts over the entire roof. This layer can be applied in various thicknesses to provide slope to drain or to provide thermal resistance (R-value). The second step is to apply a protective coat over the foam layer, usually via spraying as well, although in some cases it is hand-rolled. This elastomeric coating provides weatherproofing and also protects the underlying foam from UV damage and physical damage. Mineral granules or sand may also be added to the protective coating to provide aesthetic appeal and increased durability.
Superior insulation with an SPF system translates to greater energy efficiency for your commercial property. The material is also extremely low-maintenance, while impressively durable against hail and weather damage.
Contact us to learn more about sprayed polyurethane foam roofing. We provide free estimates and have the expertise to service all commercial properties.
Sprayed Polyurethane Foam Roof Repair
Do you already have an SPF system for your commercial roof? Is it damaged or needing replacement? Are you unsure of the actual condition of your roof? We know that property owners have a lot on their plate, so let the team at Burell Built Roofing, LLC handle SPF repairs and maintenance for your commercial building.
We offer an Annual Maintenance Agreement, which includes two visits a year to thoroughly inspect your roof for signs of damage or wear. These regular service checks can save you more costly damage down the road, and ensure that you have a professional eye on your roof, so you can assure your customers and tenants that they're in good hands.
Call us at 865-238-2628 for more information about sprayed polyurethane foam roofs for your commercial Knoxville, TN property, or (423) 702-4042 in Chattanooga, TN!