Should roof be insulated?
To keep your home warm in the winter, your roof should be insulated. Because heat rises, it will head up to your roof, rather than keeping the home warm below. As much as a quarter of all heat in a home will be lost if your roof and attic aren't insulated properly.

While most people think of roof insulation for heat and keeping their homes warm, it also helps keep homes cool in warm weather. In the summers, it will help keep your home cool by blocking outside heat.

Insulation also helps keep your heating and cooling systems working more efficiently and effectively. This will lower your energy costs during the hottest and coldest times of the year. Additionally, insulation will reduce noise and add value to your home.
What is the best insulation for roofs?
Generally, there are two kinds of insulation, fiberglass and foam insulation. Fiberglass insulation is the least expensive and usually easiest to install. It comes in batts or is rolled. It has to be fitted in tightly to reduce air flow.

Insulation is assigned an R-value which is measures the ability to resist heat flow.

Foam comes in two styles, either spray foam or rigid foam. Spray foam is usually used in the space between attic rafters, while rigid foam, which comes in sheets or panels, can be installed between rafters or beneath them. Both types of foam generally have high R-values.

While any type of insulation will work for roofs, some prefer foam because it usually manages air flow better and the R-values are higher. Fiberglass insulation can sometimes get compressed, causing its R-value to decrease. If fiberglass isn't fitted in properly it can leave gaps for airflow.

As your roof insulation service, Burell Built Roofing, LLC in Louisville and Chattanooga, TN, we usually recommend blown fiberglass over cellulose because it is fire resistant, durable and has very minimal settling. If you're interested in learning more about our insulation services call  865-238-2628.

If insulation is installed properly and you have enough of it, you'll find these signs in common:
Even temperatures throughout the house: If your home has rooms colder than others, you're insulation is poorly installed or you need more of it.
Lower energy bills: When you have enough insulation, it helps your heating and air systems run more efficiently.
Consistent temperatures in walls, floors and ceilings: Really cold walls, floors or ceilings indicate poor insulation. Insulation should help keep temperatures consistent.
Lack of drafts: Insulation should seal up gaps that let cold air into the house.
Prevention of leaks: Adequate insulation keeps moisture at bay.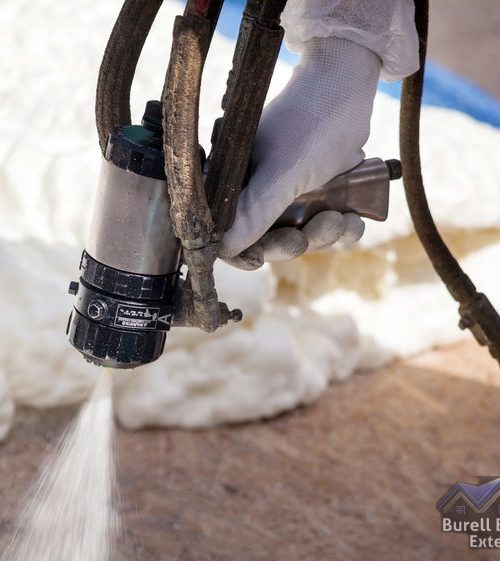 Can I insulate my attic roof?
Anybody can insulate an attic roof as a DIY project. You will have to determine how much insulation you will need and whether you will want to use fiberglass or foam insulation. Fiberglass usually the least expensive for DIY projects. You will also have to make sure your roof is properly ventilated.

Roof insulation and ventilation have to work together to maintain airflow and keep moisture out of the attic. Moisture build up can cause leaks and mold and mildew to grow. To properly ventilate an attic when it's insulated, you will need to install rafter vents. They are placed under the roof sheathing between rafters. Make sure you clear obstructions to other vents as well.

In a finished attic, you may not be able to get to all openings like the ceiling without removing drywall or other finishing material.

Do roofers do insulation? If you aren't up to a DIY project, you may want to hire roofers to do it for you. Our team of roofers is available for all your roofing needs.

Since heating and air systems are affected by insulation service, you might want to have professionals take a look at your heating and air systems to make sure they are working properly. Our locations in Alabama have great service for heating repair in AL.

Some roofing systems like cathedral roofs have little or no attic space. Roof insulation with no attic is still possible with these types of roofs. Rigid foam insulation usually serves well in these cases. Our roofing professionals can answer questions about your insulation needs. Give them a call at 865-238-2628.
Can you put new insulation over old?
New insulation can be placed over old insulation. But avoid placing new insulation over the old if the old insulation is wet. If the old insulation is wet it's possible mold and mildew could form.
Roof insulation contractors
If you plan to install insulation in your home, you may want to check into our roof insulation contracting services in Louisville and Chattanooga, TN and surrounding areas. To learn more about our services give us a call at 865-238-2628. We are ready to help you.